June 22-25, 2000
Context for Meeting
Okinawa Women Act Against Military Violence hosted this meeting, the third international meeting of the East Asia-US Women's Network Against Militarism.  In 2000, it was Japan's turn to host the G-8 Summit meeting of world leaders and Okinawa was one of the sites for this Summit.  Wanting to make the most of this opportunity presented for international attention, Okinawan groups organized a  month-long series of events on peace, health, and environmental sustainability leading up to the G-8 Summit meeting in July 2000.  The International Women's Summit addressed the inherent connections between militarism and the economy.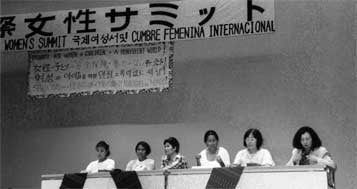 Meeting Highlights
COMMEMORATION OF OKINAWA MEMORIAL DAY, JUNE 23rd
Participants joined in commemorations of the 55th anniversary of the Battle of Okinawa at the Cornerstone of Peace and people's memorials, where women spoke in solidarity with Okinawan people.
VISIT TO HENOKO
to meet women elders who oppose the plan for a new US Marines helicopter base to be built in the ocean. They explained the vital importance of the ocean and the mountains for everyday survival and security.
OPEN FORUM ON GLOBALIZATION AND MILITARISM
Speakers from South Korea, the Philippines, Okinawa, and mainland Japan made presentations about their work on redefining security in practice for women in their communities.
NEW CONNECTIONS WITH ACTIVIST FROM PUERTO RICO
A Puerto Rican activist participated in the Network meeting for the first time. She shared experiences of the campaign to stop the US Navy from using the island of Vieques for bombing training; she also emphasized the role of colonization and racism in US militarism.
DISCUSSIONS
on experiences and strategies to deal with
 "What does it mean to work in solidarity?  As women we must strengthen our common consciousness and voice. We must integrate our common understandings into our relationships in the Network and in our daily lives."
— Maria Reinat Pumarejo (ilé—formerly Institute for Latino Empowerment, now Consciousness-in-Action, Puerto Rico).